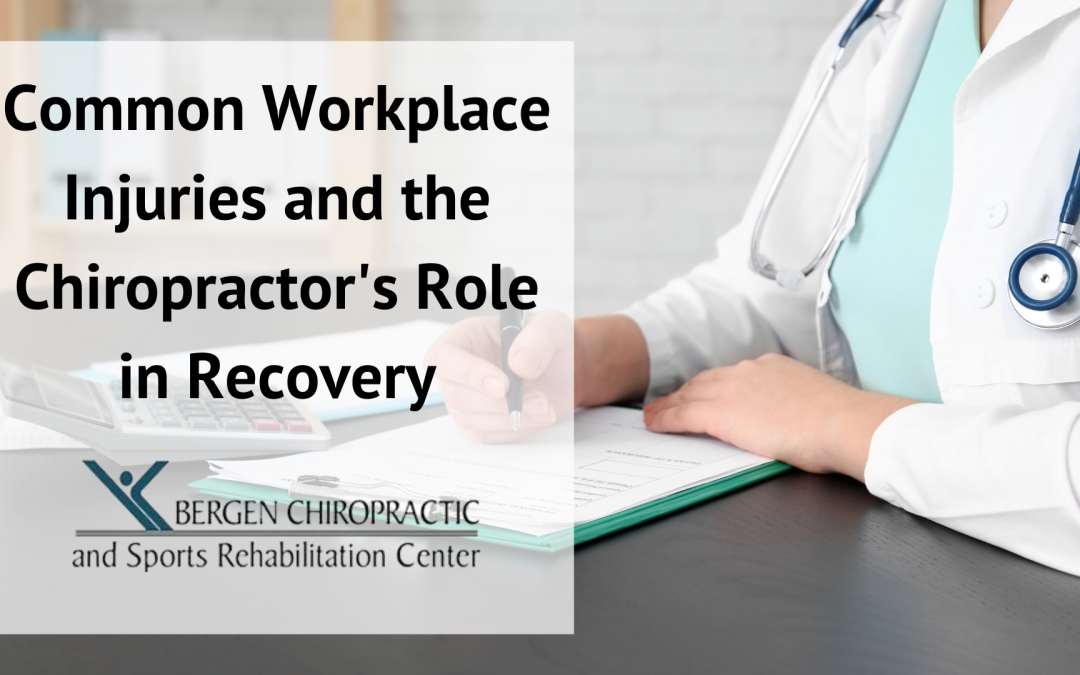 Sarah worked in her employer's IT department. The room she worked in had removable floor tiles to allow access to the extensive wiring beneath the floor. One day, a coworker removed a tile to repair then forgot to replace it. Later, as Sarah walked through the area, she stepped into the gap and stumbled. As she fell, her leg twisted at the knee. 
Employers are subject to extensive safety regulations, and most make great efforts to train and educate their employees on how to avoid a work injury. Machinery and vehicles are fitted with safety features, and where needed, employees are given gear such as steel-toed shoes, hard hats, and safety harnesses and vests. 
No doubt, these efforts have prevented countless injuries and saved countless lives. But workplace injuries still happen. Often these incidents cause musculoskeletal injuries. For this, a chiropractor is the one to see. 
Here we'll look at common workplace injuries and how a chiropractor can provide the most effective treatment for many of them.
How Often Is Often? Work-Related Injury Statistics
General Statistics
According to the Bureau of Labor Statistics, in 2019 (the last year before the pandemic changed the workplace), there were 2.8 million non-fatal workplace injuries and illnesses reported by private employers. About 888,220 of these injured or ill employees missed at least one day of work. 
The manufacturing industry accounted for 15%, with cases ranging from "sprains, strains, or tears (28.0%), 16,790 cases of soreness or pain (14.5%), and 15,380 cases involving cuts, lacerations, or punctures (13.3%)."
Occupations
Not surprisingly, the occupations most prone to injury are those where people work with machinery and tools, are on their feet a large portion of their work time, handle heavy objects, or require repetitive motions. Nurses and retail salespeople are not who you might think are on a list with people in construction, but they feature prominently on the list.
Causes
According to the National Safety Council, two of the top three work injury causes are overexertion (21.7%) and falls, slips, and trips (18.0%). 
In previous years, higher percentages were attributed to these categories. However, COVID-19 pushed another category—exposure to harmful substances or environments—to the top. Other typical causes of work-related injury include repetitive motions and vehicle accidents. 
These cases often result in musculoskeletal injuries that can benefit greatly from chiropractic care.
Injuries
Some of the most frequent injuries are sprains, strains, and tears from slips and falls. Overexertion causes strained or torn muscles, ligaments, or tendons. Back pain is common and may be due to disc injury. 
Repetitive motion injuries include tennis elbow, carpal tunnel syndrome, tendinitis, bursitis, rotator cuff injury, and trigger finger. Vehicle accident injuries often include whiplash.
What Are Advantages to Chiropractic Care for Workplace Injuries?
A chiropractor can contribute significantly to eliminating pain and recovering as quickly as possible. Several studies indicate that a person with a work injury given chiropractic care requires less time for recovery, is less likely to need a hospital stay, and ends up with a smaller bill than standard medical services. In addition, chiropractic treatments can help get employees back to work sooner. 
Another vital advantage of chiropractic care is that it is drug-free. We have been facing a crisis of opioid addiction due to an increase in prescribed pain medications. Chiropractic techniques use alternative, more natural means to alleviate pain. In one study, patients receiving chiropractic treatment for lower back pain were 90% less likely to use opioids. 
At Bergen Chiropractic and Sports Rehabilitation Center, we often partner with medical practitioners who often refer patients to us. Together, we provide thorough care for quick recovery. Studies show that combining chiropractic treatments and standard medical care for lower back pain affords patients more effective pain relief and less disability than just standard medical care.
What Kind of Work Injuries Do Chiropractors Treat?
Chiropractors treat musculoskeletal injuries to the spine, neck, back, bones, joints, and surrounding tissues. At Bergen Chiropractic and Sports Rehabilitation Center, we use various tools and techniques to locate the source of the pain, develop a drug-free treatment plan, and promote a full recovery.
#1: Carpal Tunnel Syndrome
Carpal tunnel syndrome is a compression in the wrist caused by repetitive motions. We use soft tissue techniques, Instrument-Assisted Soft Tissue Mobilization, cold laser, and rehabilitation procedures to relieve pain and stabilize the wrist.
#2: Ankle Sprain
A patient sprained an ankle after an awkward fall on the factory floor. The ankle may be swollen and bruised, and ligaments may be stretched or torn. We remove the swelling on the ligament and use soft tissue treatments and rehabilitation. In addition, we often use taping techniques—developed by our own Dr. Gregory Doerr—for stability and protection.
#3: Disc Herniation
A patient had a car accident during work travel and ended up with a disc herniation. Here, the cartilage surrounding the soft cushioning center is injured, and the center leaks out, which can cause sciatica. We use low back traction, rehabilitation exercises, various soft tissue techniques, manipulation, and mobilization to treat disc herniation.
We're Looking Forward to Helping You at Our Chiropractic Offices in NJ!
The workplace is much safer today than it was decades ago. Workplace safety laws, employee training, and standard safety equipment and measures have tremendously reduced the risk of injury and death. But when accidents do occur, a chiropractor can be the ideal doctor for specific common workplace injuries. 
These injuries can occur anywhere, from a high-rise construction site to an office filled with cubicles. The musculoskeletal type of injuries can benefit from the services of a chiropractor or a combination of chiropractor and standard medical care. 
At the Bergen Chiropractic and Sports Rehabilitation Center, our chiropractic team, led by Dr. Gregory Doerr, follows the highest and most professional medical standards to provide superior chiropractic help. After all, our mission is to provide unparalleled patient care and services in a comfortable healing atmosphere. Contact us to learn more about our chiropractic services! Our chiropractic offices in Cliffside Park, NJ, and Hackensack, NJ, are ready to welcome you!