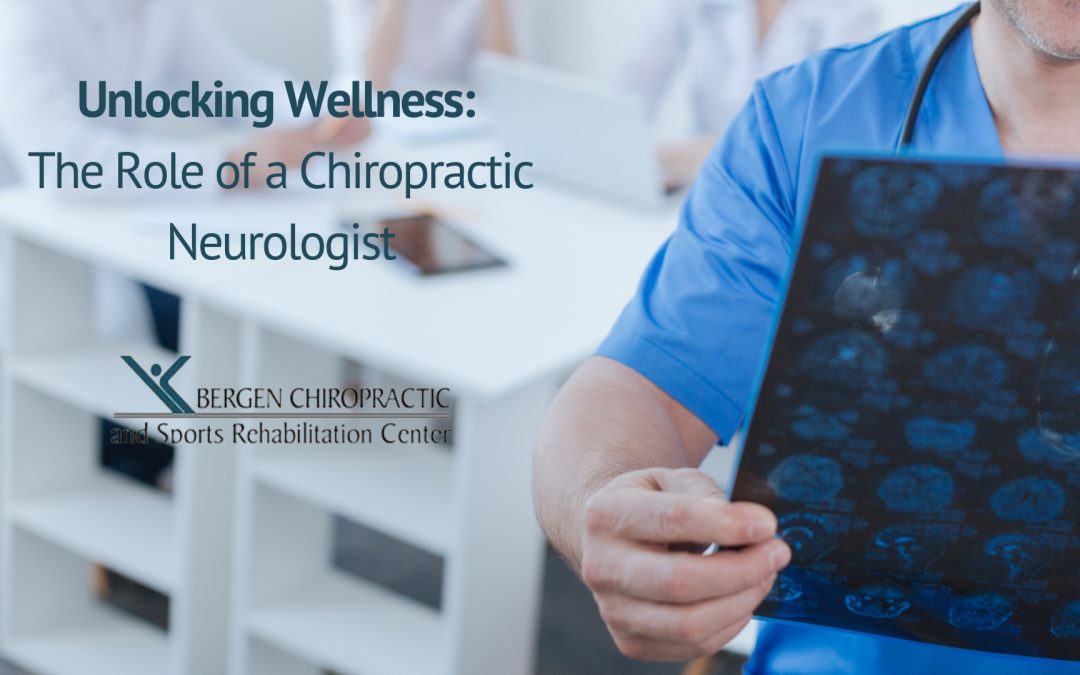 Imagine a healthcare approach that's all about fine-tuning your body's inner workings — like a mechanic for your nervous system. 
A treatment philosophy about non-invasive, drug-free strategies that are personalized for your unique needs. 
Hang on tight as we discover the wonders of chiropractic functional neurology!
What is a Chiropractic Neurologist?
We've all heard of chiropractors, right? They're those amazing professionals who have magic in their hands, helping to ease our aches and pains with some strategic pushing and pulling.
Now, imagine coupling that chiropractic wizardry with some deep knowledge of the human brain and nervous system — that's what a chiropractic neurologist is all about!
A chiropractic neurologist is basically a super-specialized chiropractor. They do all that cracking and spine aligning that regular chiropractors do, while also having a deep understanding of the nervous system and brain function. They're the perfect blend of chiropractic and neurology, equipped to handle a variety of conditions not typically associated with chiropractic care. They've got the skills to deal with chronic pain, vertigo, learning, movement disorders, and so much more!
What is the Approach of Chiropractic Functional Neurology?
Chiropractic neurology is all about the power of the nervous system. 
Our nervous system is the body's control center, handling everything from our motor skills to our sensory experience. 
By using specific chiropractic techniques, these brainy experts can bring about changes in the nervous system. It's almost like they can 'rewire' the brain and nervous system through their treatments!
The Differences Between a Chiropractic Neurologist and a Medical Neurologist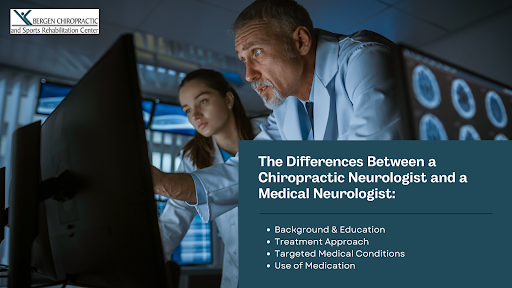 While practitioners of both professions share a common interest in the nervous system, the way they approach and manage neurological conditions is quite different:
Background & Education
A chiropractic neurologist starts off as a chiropractor, and then takes additional training in neurology. They follow a holistic, or whole-body, approach to health, all about non-invasive treatments, like spinal adjustments.
A medical neurologist, on the other hand, goes through medical school, a neurology residency, and a sub-specialization. They are trained to use medications and surgeries to treat neurological conditions.
Treatment Approach
A chiropractic neurologist focuses on functional aspects of neurological disorders. They use physical manipulations to improve neural pathways, enhance brain performance, and, essentially, trigger the body's healing response.
Medical neurologists use a more conventional approach. They can prescribe medications, recommend physical therapy, and even perform surgeries if needed.
Targeted Medical Conditions
Chiropractic neurologists often treat patients with movement disorders, chronic pain, or recovery needs from injuries. They also help patients who have difficulties with balance or coordination, or who suffer from conditions such as ADHD or dyslexia.
Medical neurologists treat a wide range of conditions that affect the nervous system, such as Alzheimer's disease, epilepsy, multiple sclerosis, Parkinson's, and stroke. They also deal with issues that affect the brain, such as migraines or neuropathic pain.
Use of Medication
A chiropractic neurologist doesn't typically prescribe medication. Instead, they use chiropractic adjustments, exercises, or even diet changes to help treat conditions.
A medical neurologist, however, often does prescribe medication as part of a treatment plan. They might also recommend more traditional routes, such as surgery, depending on the condition.
The Arduous Road to Becoming a Chiropractic Neurologist
First things first, you've got to become a chiropractor.
This starts with a solid pre-medical undergraduate education. A solid grasp of biology, anatomy, and other sciences is crucial. Now, don't go thinking this training is all bookwork — you must also have good hands-on skills because of all the popping and cracking that chiropractors do.
After your bachelor's, you'll head to chiropractic school. This is where you'll really dive deep into the world of spinal manipulation and patient care. These programs usually last about four years and give you a Doctor of Chiropractic degree at the end.
Next, you'll enroll in a three-year post-doctoral program that specializes in neurology. It might be intense and rigorous, but it's where you get to learn all about the amazing world of the nervous system!
This continuing education will teach you how to diagnose and treat conditions that involve the nervous system. But it's not all about the brain — you'll also learn how it connects with every part of the body! This way, you can figure out how a problem in one part of the nervous system may affect other parts of the body. It's like becoming a detective but for the body!
Chiropractic Neurologists are Certified by the American Chiropractic Neurology Board
At the end of all that learning, there's one final hurdle: the board exam, organized by the American Chiropractic Neurology Board (ACNB). It's not a piece of cake, but if you've made it this far, you're more than ready for it. Once you've aced that exam, you can officially call yourself a chiropractic neurologist!
7 Conditions Treated Through Chiropractic Neurology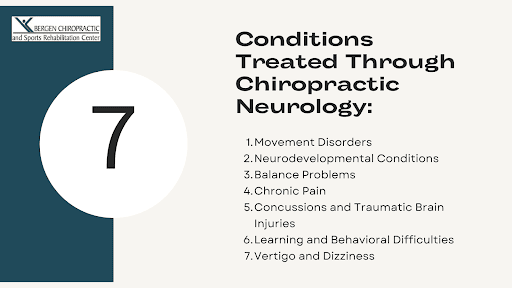 Chiropractic neurology addresses a pretty wide range of conditions by focusing on how disorders in the nervous system can impact the rest of the body and vice versa, such as:
Movement Disorders

: Whether it's an issue like tremors or something more complex like Parkinson's, these specialists use hands-on techniques to improve movement and coordination.

Neurodevelopmental Conditions

: This includes conditions like ADHD, Autism, and dyslexia, where a little tweak in the nervous system might lead to improved function and less distress.

Balance Problems

: Feel like you're always about to tip over? These specialists work to enhance the neural connections that help keep you steady.

Chronic Pain

: Chiropractic neurologists are known to help manage this pesky condition, especially if it's related to nerve dysfunction.

Concussions and Traumatic Brain Injuries

: A chiropractic neurologist has the techniques to stimulate healing and manage the symptoms of post-concussion syndrome or the lingering effects from a brain injury.

Learning and Behavioral Difficulties

: The brain is like the CPU of the body, and sometimes, a glitch can lead to learning and behavior issues.

Vertigo and Dizziness

: If you've been feeling like you're on a non-stop merry-go-round, these specialists might be able to help by addressing the underlying neural misfires.
What are the Advantages of Chiropractic Functional Neurology?
Non-Invasive

: No scalpels or stitches here! Chiropractic neurologists use hands-on techniques and exercise-based treatments, meaning there's typically no need for surgery or invasive procedures.

Drug-Free

: They focus on improving your body's function through natural methods. So, you're looking at fewer prescriptions and a lower risk of side effects!

Personalized Care

: No one-size-fits-all approaches in this field. Chiropractic neurologists create tailored treatment plans based on your body's specific needs.

Whole-Person Approach

: A chiropractic neurologist doesn't just focus on one part of the body. Instead, they look at how all of your systems interact, leading to more effective treatment.

Improved Quality of Life

: By addressing the root causes of symptoms, not just the symptoms themselves, patients often experience better overall health, increased performance, and improved quality of life.

Comprehensive Treatment

: Chiropractic neurologists can often help with a wide range of conditions — from movement disorders to chronic pain — offering versatile treatment options.
Learn More About Chiropractic Care With Dr. Doerr and His Expert Team!
At Bergen Chiropractic and Sports Rehabilitation Center, our chiropractic team, under the leadership of Dr. Gregory Doerr, adheres to the highest and most professional medical standards to provide superior chiropractic help. Our mission is to provide unparalleled patient care in a comfortable, healing atmosphere. 
Access our contact form or call us at (201) 945-4075 to learn more about our chiropractic care services! Our offices at 532 Anderson Avenue, Cliffside Park, NJ 07010, and 62 Summit Ave, Hackensack, NJ 07601, are ready to welcome you as we proudly serve the areas of New York, New Jersey, Philadelphia, PA, and Baltimore, MD. Also, feel free to access our blog, Facebook, and Instagram pages for more information on chiropractic adjustments!
References
"Chiropractic Neurologists Are Experts in the Brain, Spine, and Nervous System Who Have Received Extensive Training and Certification." ACNB, acnb.org/. Accessed 28 July 2023.

Margach, Russell W. "Chiropractic Functional Neurology: An Introduction."

Integrative Medicine (Encinitas, Calif.)

, Apr. 2017,

www.ncbi.nlm.nih.gov/pmc/articles/PMC6413643/.

Accessed 28 July 2023.