Sound waves exist in various forms, from the whirring of a fan to the rumble of thunder. But when harnessed, these sound waves can significantly benefit our health. 
Miracle Wave Therapy is a revolutionary new treatment helping people overcome chronic pain and a myriad of other health issues using acoustic wave therapy! This cutting-edge therapy stimulates the body's natural healing processes, relieving a wide range of conditions. Unlike traditional treatments, which often have several side effects, Miracle Wave is non-invasive and safe! 
In this article, we will explore the science behind Miracle Wave and how it can prove beneficial to you. Whether you're dealing with chronic pain, nerve damage, or other health challenges, this innovative treatment may be the answer you've been searching for!
What is the Miracle Wave Therapy?
As a non-invasive treatment, Miracle Wave harnesses low-frequency sound wave technology to stimulate and regenerate the body's tissue and natural healing processes. Both acoustic wave therapy and shock wave technology were initially used by veterinarians, but it has now been proven to yield results in patient treatment plans as well! 
Miracle Wave's innovative equipment delivers the healing benefits of shockwave therapy to the patient in a unique and effective way. The acoustic sound waves are sent to the trigger points to rejuvenate muscle tissue, improve blood circulation, and reduce minor musculoskeletal aches and pains. This non-invasive treatment solution is ideal for anyone struggling with chronic pain, nerve damage, and other health issues.
What Do the Acoustic Pulses Entail?
Acoustic wave therapy uses high-energy sound waves to revitalize the body's healing process without damage to the soft tissue or the connective tissue.
What sets Miracle Wave apart is the device's use of shock wave therapy, a more direct form of acoustic wave therapy. Acoustic waves travel 343 meters (i.e., 1125 feet) per second, whereas shockwaves travel 465 meters (i.e., 1525 feet) per second, allowing them to break the sound barrier more readily and stimulating healing at a cellular level. 
Shock wave therapy is usually performed as an outpatient treatment, with patients being able to return to their routine on the same day. The treatment works perfectly alongside other chiropractic techniques, fitting in seamlessly to an existing treatment plan.
Miracle Wave Helps Stimulate the Body's Natural, Self-Healing Process!
Shock waves, a more intense version of acoustic wave therapy, are used to target trigger points in the body. These areas can be affected by a host of ailments, such as poor local blood circulation, chronic pain, stiff muscle tissue, or injured tissue.
The shock wave technology relies on mechanical force to cause microtrauma to the soft and connective tissues without damage. This force stimulates blood flow to the area, providing much-needed oxygen and nutrients to the body's tissue. The process speeds up healing through the increase of metabolic activity. Additionally, sound waves can help break down scar tissue and reduce inflammation.
How Does the Miracle Wave Technology Benefit the Patient?
Miracle Wave is a non-invasive treatment with little to no downtime. It is mainly beneficial for patients who do not have the time to devote to more invasive procedures. Once the treatment is completed, returning to your regular daily habits takes one simple step!
Miracle Wave is a holistic treatment. It works to rejuvenate and heal the targeting area from the inside out. As a result, shock therapy resolves physical manifestations of pain and results in lowered cortisol levels and significant stress reduction!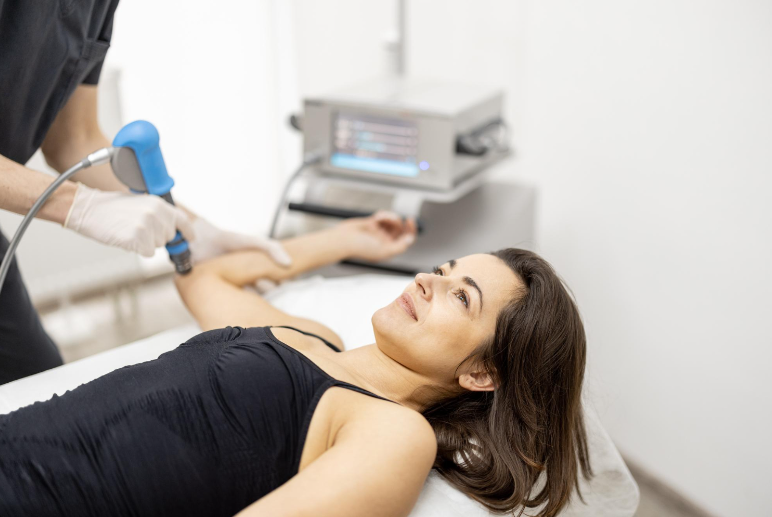 What Conditions Does Miracle Wave Help Treat?
The benefit of Miracle Wave lies in its diverse treatment capabilities. You can use it in conjunction with other chiropractic treatment methods to specifically target and treat severe manifestations of pain and injured tissue. These are a few of the conditions that can be treated with Miracle Wave®:
Stress fractures, small cracks in the bone

Muscle strains and tears

Degeneration of the joints

Heel spurs, bony growths on the heel

Foot and heel pain

Tendinopathy, a disease affecting tendons

Calcium buildup

Non-union fractures

Inflammation
Each person's case is different, so it is best to come in for a consultation to assess what treatment plan would be best for you.
What are the Advantages of Choosing Miracle Wave Over Other Treatments?
Deep tissue laser therapy and hyperbaric oxygen therapy are among the few other treatment options that people consider when looking into Miracle Wave. These treatment options are effective but come with more severe side effects, such as burns, lung injury, and temporary nearsightedness.
While not risk-free, Miracle Wave is a much safer, more predictable option than many other similar treatments!
How Long Before I See Improvements?
Symptom relief is immediately noticeable after each treatment session. However, the fuller effects of the treatment will take a couple of days to become apparent. Severe symptoms may appear just before the subsequent treatment session. Once the treatment plan is completed, it may take 2-3 weeks for the body's natural healing to begin, which is when the actual Miracle Wave results will take effect.
How Much Does Wave Therapy Cost?
All ailments are unique. The physical and hormonal manifestations of these ailments often result in varied symptoms. That is why it is imperative to consult with Dr. Doerr and his team to ensure that the proper treatment plan is being prescribed so that you notice immediate results!
Dr. Doerr Offers Miracle Wave at Bergen Chiropractic!
At the Bergen Chiropractic and Sports Rehabilitation Center, our chiropractic team, led by Dr. Gregory Doerr, follows the highest and most professional medical standards to provide superior chiropractic help. Our mission is to provide unparalleled patient care and services in a comfortable healing atmosphere. Access our contact form or call us at (201) 945-4075 to learn more about our chiropractic services! Our chiropractic offices at 532 Anderson Avenue, Cliffside Park, NJ 07010, and 62 Summit Ave, Hackensack, NJ 07601, are ready to welcome you as we proudly serve New York, New Jersey, Philadelphia, PA, and Baltimore, MD, areas. Also, feel free to access our blog, Facebook, and Instagram pages for more information on chiropractic treatments!
References
"Center for Health: Chiropractic and Wellness Care Practice." Center of Health, www.mycenterforhealth.com/contents/miracle-wave. Accessed 13 Dec. 2022.
"Extracorporeal Shockwave Therapy for Shoulder Lameness in Dogs." Journal of the American Animal Hospital Association, U.S. National Library of Medicine, pubmed.ncbi.nlm.nih.gov/25415219/. Accessed 13 Dec. 2022.
"Microtrauma Stimulates Rat Achilles Tendon Healing via an Early Gene Expression Pattern Similar to Mechanical Loading." Journal of Applied Physiology (Bethesda, Md. : 1985), U.S. National Library of Medicine, pubmed.ncbi.nlm.nih.gov/24177691/. Accessed 13 Dec. 2022.