You're probably familiar with the ultrasounds doctors use to diagnose pregnancy. But what may surprise you is that chiropractors can use ultrasound to treat muscle and joint pain in a method called chiropractic ultrasound therapy. This new form of therapy can provide relief to people suffering from chronic muscle and joint pain without using drugs or equally painful procedures! 
What is Chiropractic Ultrasound Therapy?
Ultrasound uses sound waves to treat medical problems by stimulating blood flow. The increased blood flow helps speed your body's natural healing processes to reduce inflammation, break down scar tissue, and relax your muscles. 
Ultrasound is emitted continuously or through pulses, each with its own effect. Continuous sound emission, also called thermal ultrasound, penetrates the skin to the soft tissue beneath for chronic pain relief. Pulses, also called mechanical therapy, are used on non-chronic conditions like recent, non-permanent injuries. 
Chiropractors employ ultrasonic therapy to ease back and joint pain as part of a holistic treatment plan. Other parts of an ultrasound treatment plan may include techniques such as chiropractic adjustments, physical therapy, massage, stretching, and heat therapy. Therapeutic ultrasound helps support the work of these treatment modalities to help your body heal as fast as possible. 
How Does Ultrasound Therapy Work?
Ultrasound therapy uses a wand-shaped applicator with a specialized gel either applied to it or the treatment area. The chiropractor uses the ultrasound machine to disperse the high-frequency sound waves evenly as they move it around in small circles. These sound waves will cause a vibration in the area, which may lead to a tingling or warm sensation — the result of your tissues being warmed by the sound waves. This mild side effect proves that the therapy works and your blood flows better to the tissue.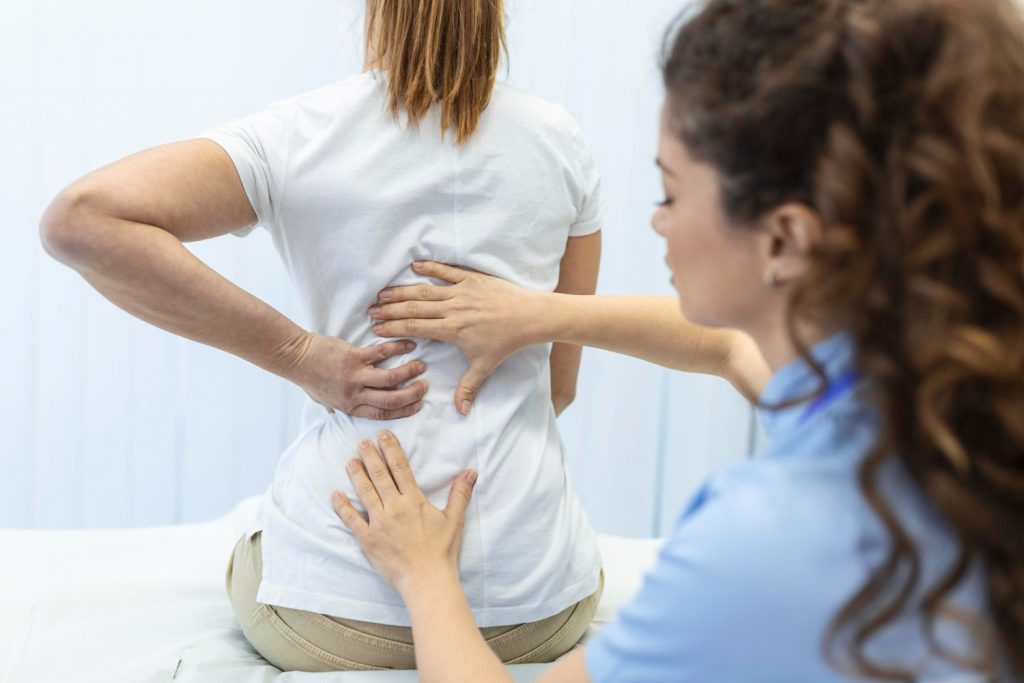 Ultrasound Therapy Can Treat a Variety of Conditions!
Ultrasound therapy can support the treatment of a wide range of injuries and conditions. One group of conditions ultrasound therapy is effective against are bone and joint illnesses, such as: 
Ultrasound therapy has also been proven effective against muscles, tendons, and connective tissue inflammation. Conditions that inflame your muscles and tissues include: 
Scar tissue 

Sprains and strains 

Myofascial pain
While ultrasound therapy can help treat many of these conditions, it does not necessarily cure them. Ultrasound therapy is not effective on all forms of chronic pain. Instead, it can help reduce pain and support your chiropractor's other treatment methods.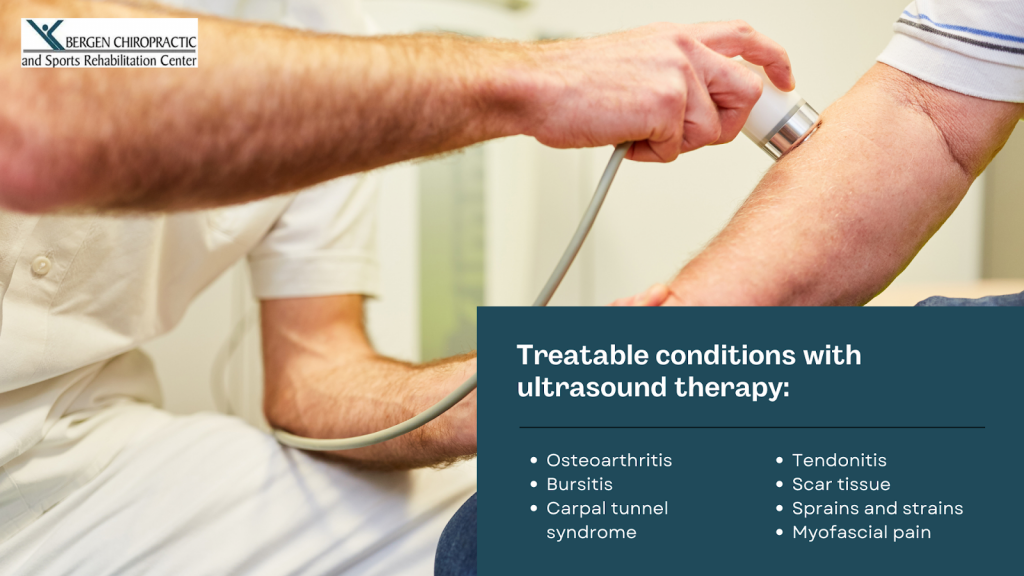 Will Therapeutic Ultrasound Therapy Work for Me?
Ultrasound therapy is a quick, painless, and effective treatment for many conditions. In particular, ultrasound therapy is great for people suffering from chronic pain and irritation. When used in conjunction with other treatment methods, ultrasound therapy has been proven to be effective and may offer a surprising amount of relief. If you suffer from chronic pain, talk to your healthcare professional to evaluate whether ultrasound therapy could be helpful for you. 
Frequently Asked Questions About Ultrasound Therapy
Chiropractic ultrasound therapy is a relatively new treatment modality. Because of its novelty, it is only natural to have questions about it. Here are some answers to commonly asked questions about ultrasound therapy to dispel any uncertainties about this treatment modality. 
Can Ultrasound Therapy Alleviate Symptoms of Tendinitis?
Tendinitis is a muscle-tendon inflammation that can cause pain and limit motion. Since tendinitis is a form of inflammation, ultrasound therapy is effective against it! Ultrasound has been shown to effectively increase blood supply to the tendon, reducing pain and inflammation. When combined with chiropractic adjustments, this treatment modality can alleviate painful symptoms and restore a normal range of motion. 
Does Ultrasound Therapy Treat Plantar Fasciitis?
Plantar fasciitis is similar to tendinitis since it is caused by inflammation in the fascia and foot tendons. It can be particularly tricky to treat because the skin on the bottom of the feet is very thick. 
Despite its thickness, ultrasound waves can penetrate the skin on the feet to reach the inflamed connective tissue and tendons. This approach allows ultrasound therapy to effectively decrease inflammation and pain caused by plantar fasciitis. 
Is Ultrasound Therapy Safe?
Ultrasound therapy is a low-risk form of therapy. According to the FDA, ultrasound therapy is a safe process so long as you receive your treatment from a licensed professional. It is also painless unless used in an area already in pain. 
Ultrasound therapy is usually avoided for patients with blood clots, malignant tumors, acute infections, and vascular abnormalities due to the risk of complications.  
How Often Should You Do Ultrasound Therapy?
Ultrasound therapy is generally safe at nearly any frequency. There is no upper limit on how often ultrasound therapy should be used, but normally, you should only receive treatment once per day. If you do not notice improvement after 3-4 sessions, experts recommend that you reevaluate or seek other treatment methods.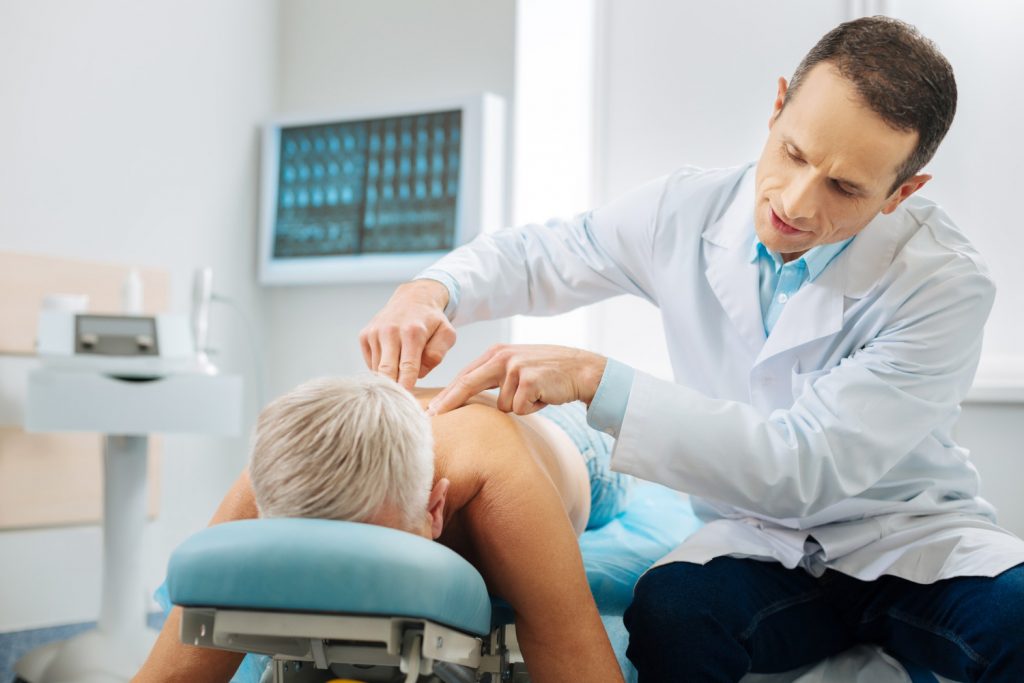 Start Your Ultrasound Therapy at Bergen Chiropractic!
At the Bergen Chiropractic and Sports Rehabilitation Center, our chiropractic team, led by Dr. Gregory Doerr, follows the highest and most professional medical standards to provide superior chiropractic help. Our mission is to provide unparalleled chiropractic care and services in a comfortable healing atmosphere. Access our contact form or call us at (201) 945-4075 to learn more about our chiropractic services! Our chiropractic offices at 532 Anderson Avenue, Cliffside Park, NJ 07010, and 62 Summit Ave, Hackensack, NJ 07601, are ready to welcome you as we proudly serve New York, New Jersey, Philadelphia, PA, and Baltimore, MD, areas. Also, feel free to access our blog, Facebook, and Instagram pages for more information on chiropractic treatments!
References
Gulick, Dawn T. "Number of Treatment Sessions for Ultrasound." PhysicalTherapy.Com, 4 Feb. 2016, www.physicaltherapy.com/ask-the-experts/number-treatment-sessions-for-ultrasound-2775. Accessed 26 Dec. 2022.
Krans, Brian. "Ultrasound: Purpose, Procedure, and Preparation." Healthline, Healthline Media, 12 Dec. 2019, www.healthline.com/health/ultrasound#followup. Accessed 26 Dec. 2022.
Johnson, Michael. "Why Your Chiropractor May Recommend Therapeutic Ultrasound Therapy." Cleveland University-Kansas City, 30 June 2021, chirohealthkc.com/why-your-chiropractor-may-recommend-therapeutic-ultrasound-therapy/. Accessed 26 Dec. 2022.